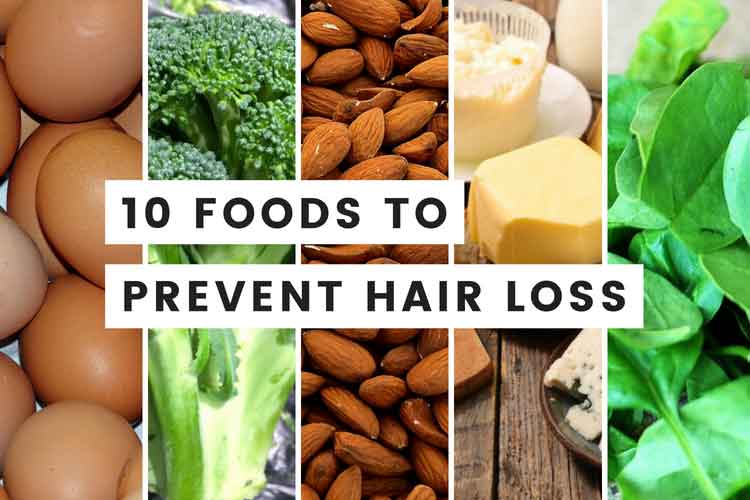 Hair loss is a common issue these days and the numbers growing rapidly.
In a 2012 study by the National Institutes of Health, more than 21 million US women are currently suffering from Hair Loss.
40% of women have visible hair loss by the time they are age 40, according to the American Academy of Dermatology.
Aging and genetics can be the most possible factor but still, there are many other factors that may influence your hair.
Stress, pregnancy, the excess of vitamin A, vitamin B deficiency, lack of protein, hormonal disbalance, dramatic weight loss, over-styling are some potential factors that come into play and responsible for your unhealthy Hair.
Although the causes of hair loss/baldness are many still your lifestyle plays a big role.
Nutritional deficiency may impact both hair structure and hair growth. A Study Says.
Hair is mainly made up of keratin and protein, so a diet rich in protein is an easy and effective way to prevent hair problems.
Along with protein, healthy hair requires the combination of anti-hair loss nutrients including complex Carbohydrates, Vitamin B, Iron, Omega 3 Fatty Acids, Sulpher, and Zinc. You need to eat the foods that pack them.
A proper and balanced diet with these essential vitamins and nutrients can fortify the hair scalp and follicles.
Our Mother Nature provides a number of nutritious hair growth foods for hair loss recovery and effective hair growth.
Here is a list of 10 foods that promote hair growth, include them in your diet to get your fuller and stronger hair back.
10 Foods For Hair Loss Recovery
1. Eggs
Egg works best whether you apply them externally or intake them in your Diet. They contain Vitamins, Zinc, Selenium, Sulfur, and Iron.
Along with these nutrients, Eggs are the excellent source of Biotin, a B complex Vitamin that helps to produce 'Keratin'.
Take at least one egg daily in your meal plan.
2. Green Peas
Green Peas are good for your Scalp, rich in Vitamin B6 and B12, essentials for consistent hair growth.
These small packets stimulate the Hair follicles and protect tissues from free radical damages.
Green Peas are an excellent ingredient to add to the diet and in your cooking.
3. Spinach
Spinach is one of the best superfoods for growth and development whether it is for body or for hair. This green leafy vegetable is a good source of Vitamin A and C, Selenium and Iron which helps to carry oxygen to the Hair.
Eat Spinach much in your breakfast, lunch or else at the Dinner.
4. Green Tea
The nutritional profile of green tea makes it an excellent drink that compelled you to add it to your diet.
Green tea may help to prevent baldness and Gray hair, these leaves are a good source of epigallocatechin-3-gallate, a polyphenol that modulates the unstable hormonal activities.
Switch to Green tea and try to take it twice a day.
5. Cottage Cheese
Cottage cheese is the best dairy product for treating your hair damages and Gray Hair. This cheese is packed with complex Proteins, Casein and Whey. It contains Vitamin B-5, an essential vitamin that cares about scalp health.
Cottage Cheese is bland in taste, You can put the chunks of this cheese with salads, soups or gravies.
6. Nuts
Almonds, cashews, walnuts all are beneficial for hair health. These nuts contain a high amount of vitamins and N\nutrients including Zinc, Omega-3 fatty acids, Vitamin E, Sulfur and Biotin which keeps hair follicles fertile.
Create a rule to eat 3-4 types of different nuts and dry fruits in breakfast and before sleep to get a good night's sleep.
Read More: 19 Foods That Help You Sleep Through The Night
7. Broccoli
Broccoli is one of the best and healthiest cruciferous vegetables with the presence of Vitamin A and C. The combination of Nutrients and Vitamins especially vitamin A helps to produce the sebum which works as a conditioner to nourish your hair and scalp.
With the help of this natural conditioner, hair gets to shine and smooth.
Not just a single way available to include broccoli in your diet, there are endless ways.
8. Sunflower Seeds
Sunflower seeds are very beneficial for hair loss or hair damage problems. These mild nutty-flavored seeds are packed with Vitamin E, Iron, Zinc, and Pyridoxine, also known as complex Vitamin B6 which cures hair loss and greasy hair problems.
One cup of Sunflower Seeds provides 31% of the recommended daily intake of Vitamin B6. So why not eat it?
9. Kidney Beans
Kidney beans are one of the best sources of protein as a vegetarian option. These little beans provide a decent amount of protein that is essential for hair growth. In addition, they are also rich in Iron, Zinc, and Biotin.
Eat at least 3 cups of kidney beans in a week to recover fast for shiny, long and strong Hair.
10. Oatmeal
Oats are one of the best foods for hair loss recovery. Oats produce melanin that keeps your natural hair color on and prevents to turn gray.
Oatmeal is a good source of Vitamin B, Potassium, Phosphorus, Magnesium, Zinc and Copper. Enjoy the benefits of this nutritionally rich food every single morning in your breakfast.
Remember to take full advantage of these superfoods by drinking plenty of water daily, and eating the balanced meal plan.