7 Healthy Meal Planning Apps You Should Check Now!
Have a look at these 7 Best Healthy Meal Planning Apps tailored to your preferences and dietary habits with customizable recipes, grocery lists, trackers to achieve fitness goals and reduce waste. You will save money and time while eating healthy.
Meal Planning seems like brushing two times a day. Doesn't it?
Whether it is to maintain your weight/ weight loss goals or eating healthy and staying fit goals or saving money and time while eating well, Meal Planning is so important.
Fortunately, there are several meal planning apps available that can make your healthy eating smart, easier and enjoyable.
Healthy Meal Planning Apps allow you to make healthy food choices. These apps keep you on track towards your healthy eating and staying fit goals while saving money and lots of time on the other side.
You can also track your daily eating & fitness activities as many people use meal planning apps to stay strong on their fitness goals.
The combination of these apps are enough to make you a pro in meal planning and still, it is free. These apps are more than just plan meal.
Additionally, meal planning apps are also beneficial to…
Check nutrition info
Plan grocery lists
Make new Recipes
Limit trips to the grocery store
Reduce waste and leftover
Whether you are new to meal planning or searching for an easy meal planning solution, these 7 highly rated Healthy Meal Planning Apps can help you to stay active on your healthy eating and nutrition goals.
You Might Also Like:
The Ultimate Healthy Lifestyle Guide: 17 Simple Steps to Begin Now
151 Healthy Habits That Will Transform Your Life
69 Better Sleep Tips To Help You Sleep Like A Baby
Free Healthy Meal Planning Apps
MealLime – simplify meal planning
Meallime App provides a large inventory of various types of delicious recipes based on your preferences and choices including Vegetarian, Paleo, Allergies-Free, Gluten-Free etc.
Here you can pick healthy recipes that suit you. When you pick a recipe, it shows up the grocery list with the necessary ingredients.
Still, If you don't like an ingredient on your list; don't worry! Meallime shows you substitute suggestions. Each of the meal takes up to 30 minutes to cook which comes in with step by step instructions.
Fooducate – Get to know what you are eating
Fooducate is a really very informative data-driven app which pulls out all the nutritional information of the food. This app helps you to find out the best food items based on your Nutritional and Dietary needs.
Fooducate has a huge database of barcodes that allows scanning over 250000 different products. It reads barcodes and labels to provide you the information in a very simple way.
It is really fun to check product barcodes. [looks like you are a pro;) ]
Lifesum – feature loaded meal planning app
Lifesum is one of the highly rated and reviewed app of this healthy meal planning apps collection.
This feature-loaded app comes with the modern interface which is easy to navigate and simple to access. Lifesum let you choose a diet plan that suits you from keto to low carb, high protein or anything else.
You can discover healthy recipes and simply plan them. Lifesum has many different tools such as calorie counter & Food tracker that let you customize your fitness and weight loss goals.
This one app is packed with many different features, all in one convenient place. So Grab it now!
Read More: Cumin Tea for Weight Loss: 15 lbs in 2 Weeks
Prepear – prepare meals effortlessly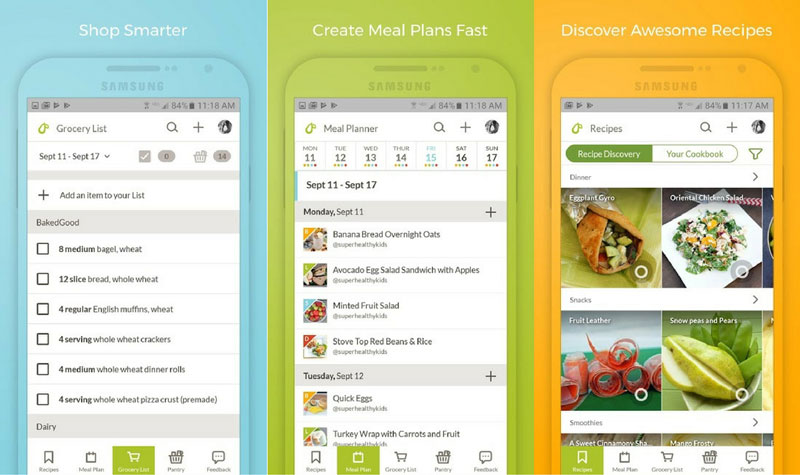 Prepear comes with a simple interface which is simple to navigate. This app lets you plan a meal and shop groceries with ease.
You can collect the recipes from anywhere; from your Grandma's cookbook to the web or discover the new recipes inside the app. Prepear also offers to organize and track your pantry effortlessly.
With Prepear, you just have to add recipes to your weekly meal plan and then enjoy them in your breakfasts, lunch, snacks, and dinner.
8Fit – Meal Planning + Workouts
8Fit is known as the mobile personal trainer.
Why? Because it provides you, everything from workout routines to meal plans designed by experts. You just need to choose a goal whether it is to lose weight or gain weight or stay fit, 8fit will take care of it, and show you best-personalized results that focused to bring a healthy lifestyle change in you.
8fit has an extensive library of hundreds of healthy recipes and quick 5-20 minutes workouts which you can do at home, park or gym.
8Fit rated high and awarded on both App Stores.
Read More – 9 Nutritious Superfoods to build muscle & Strength
Premium Healthy Meal Planning Apps & Services
Platejoy – advanced meal planning
Platejoy is a most advanced meal planning program in all of the apps that we mentioned today.
Once you signup, you have to answer a few questions/quiz that let Platejoy know what exactly your food preferences, tastes, and daily dietary habits are.
Platejoy also cares about your allergies and special choices. When you are done, you will access an extensive collection of hundreds of different healthy recipes with grocery lists, portion sizes, tastes just tailored for you.
Additionally, Platejoy offers the same day grocery delivery in over 200+ cities via Instacart.
Platejoy has 50 different data points to provide you the personalized experience with tailored suggestions best for your needs and goals.
They also have a fully customized weight loss plan comes with lots of different tools and premium support from the nutrition experts.
Want to Try Platejoy now?
HelloFresh – more than just a meal planning program
Hellofresh simplifies your life and lets you cook healthy meals effortlessly.
It is a meal planning program where you don't have to worry about grocery. Didn't get it?
HelloFresh is a reliable and quite popular meal delivery service. It brings you different well-designed meal plans: Classic, Vegetarian, and Family.
You just simply have to pick a customized plan then choose weekly healthy recipes, and You are all set. Now Hellofresh will deliver a box of pre-measured fresh ingredients with a proper recipe to your doorstep. It's easy as that.
HelloFresh is a flexible subscription-based service which means you can cancel or pause your subscription anytime.


Hope you love this post with both Free and Premium Healthy Meal Planning Apps and Programs to simplify your life with Healthy Eating. Do I miss your favorite app? Then don't forget to share with us.