If you're looking for easy vegetarian keto lunch ideas, you've come to the right place. Find 30 Easy Low Carb Vegetarian Lunch Ideas that are perfect for Weight Loss.
I know how hard it is to find the delicious low carb and quick keto recipes for your lunch that will keep you on ketosis-AKA fat-burning mode.
If you're looking for some easy keto recipe ideas to add to your lunch list, you've come to the right place.
Further, in this post, you will get 30 packable low carb vegetarian lunch ideas that will fulfill your daily carb needs.
Save this image on Pinterest to read it later! 🙂
Before we dive in!
If you are a vegetarian who is not trying keto because it requires a high amount of protein food like meat, seafood, etc. You are on the wrong track!
For a vegetarian, a keto diet is a great option to clean up eating and cut out unhealthy, processed carbs which can later deliver many health benefits including weight loss.
You can check out this simple step-by-step guide to Start Vegetarian Keto Diet for Beginners with a 7-day easy to follow meal plan.
30 Satisfying Low Carb Vegetarian Lunch Ideas to Fuel Your Day
If you need something quick, healthy, and full of flavor, these 30 recipes will be sure to inspire ideas for your lunchtime.
These keto recipes are nutritious, hearty, and won't leave you feeling hungry all day.
1. Instant Pot Broccoli Cheese
From the author: "When you are craving a warm, quick, and comforting meal, this Instant Pot Broccoli Cheese soup will satisfy your every craving! This recipe is low-carb, nut-free, egg-free, coconut-free, gluten-free, and grain-free, and can be prepared, cooked, and served in 1 hour!"
Get the recipe: RealBalanced
2. Almond Flour Waffles
From the author: "Many folks, when they start their journey on the keto diet, think they have to say goodbye to all their favorite sweet breakfast treats. But these Keto Waffles is here to prove you wrong! This recipe is totally keto without sacrificing any of the flavor and crispiness you expect from a typical waffle."
Get the recipe: Delish
3. Asian Ginger Slaw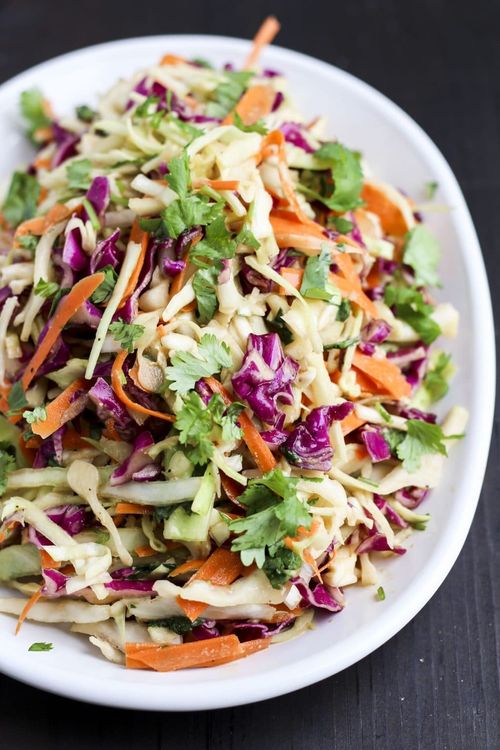 From the author: "This vegetarian coleslaw recipe features shredded cabbage, carrots, cilantro, and green onions tossed in a tangy, oil-free, sesame ginger dressing. It's extremely easy to make, and it's bursting with bright and tangy flavors!"
Get the recipe: StaceyHomemaker
4. Triple Green Kale Salad
From the author: "Healthy easy Kale salad recipe with avocado, snow peas, and hemp seeds in light Asian soy-free ginger sesame dressing. Whole30, Keto, and vegan friendly. Follow the instructions to make this easy and delicious everyday healthy kale side dish to help you eat more leafy greens! "
Get the recipe: IHeartUmami
5. Cauliflower Toast
From the author: "This cauli toast is the best thing since, well, real sliced bread. Makes it one of the easiest low carb vegetarian lunch ideas of this list."
Get the recipe: Delish
6. Quick & Easy Caesar Salad
From the author: "The real deal… this vegetarian (and vegan) Caesar salad dressing tastes so much like the real thing. It's creamy, flavorful, and downright ridiculous."
Get the recipe: HealthfulPursuit
7. Tomato Basil and Mozzarella Galette
From the author: "The beauty in a galette is that they don't have to be beautiful to be delicious. In fact, the more rustic they look, the fancier they appear. This imperfect crust method is great for gluten-free baking because it's so forgiving in its looks and versatile in the fillings."
Get the recipe: ruled.me
8. Sesame Almond Zoodle Bowl
From the author: "The sesame almond zoodle bowl is the perfect vehicle for this amazing sauce. The peanut sauce has been one of my favorite dipping and drizzling sauces for everything from low carb rolls to an overflowing bowl of stir fry veggies. Also one of the quick low carb vegetarian lunch ideas."
Get the recipe: ruled.me
9. Tomato Mushroom Spaghetti Squash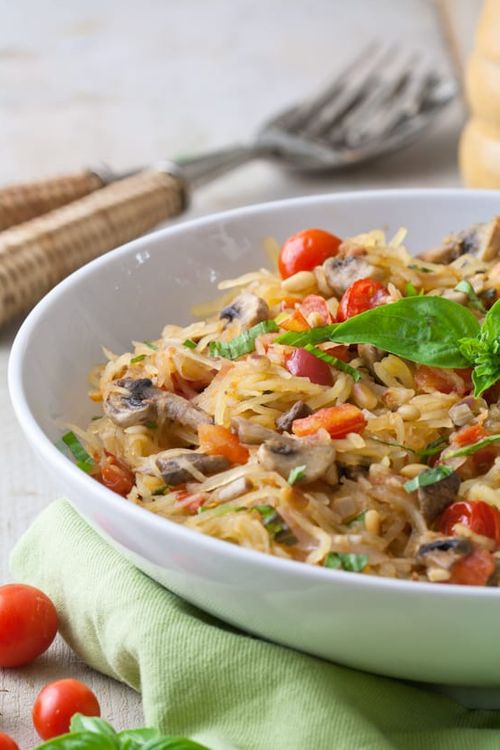 From the author: "This Tomato Mushroom Spaghetti Squash is a delicious vegetarian and vegan recipe that's perfect for summer. Whether you are vegetarian, vegan, Paleo, following Whole30 or not, it's a light, healthy alternative to pasta."
Get the recipe: WhatAGirlEats
From the author: "This easy Asian spiralized zucchini noodle salad is the perfect summer side! Simply mix, chill, and enjoy one of the refreshing low carb vegetarian lunch ideas."
Get the recipe: LowCarbYum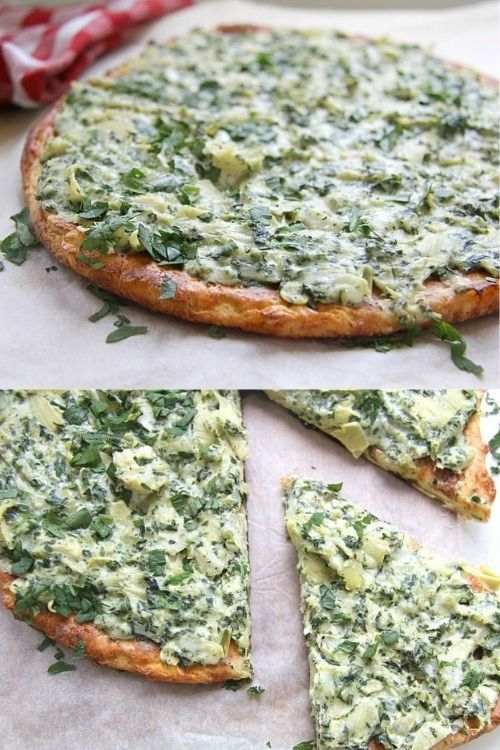 From the author: "Spinach artichoke pizza is a delicious combination of a spinach artichoke dip with a low carb and gluten-free pizza base."
Get the recipe: KetoVegetarianRecipes
12. Keto Curry Noodle Bowl
From the author: "Low-carb, keto noodle bowl bursting with fresh, crunchy vegetables and agar-based low-carb noodles. Smothered in a creamy (dairy-free!) curry sauce."
Get the recipe: HealthfulPursuit
13. Avocado Tomato Arugula Salad
From the author: "This vegan arugula salad is the most flavorful and fresh side dish! It's loaded with spicy arugula, juicy grape tomatoes, fresh basil, and creamy avocado chunks tossed in a tangy balsamic vinaigrette. This vegan side dish is easy to make and it's ready in 20 minutes!"
Get the recipe: StaceyHomemaker
14. Low Carb Mushroom Risotto with Cauliflower Rice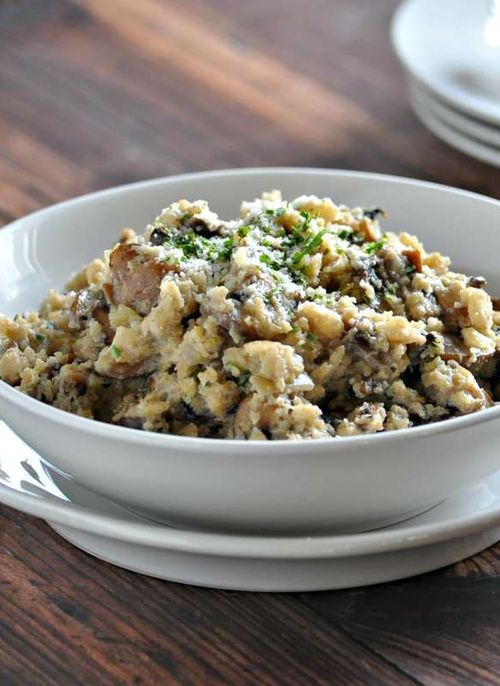 From the author: "All of the delicious flavors of risotto, without all of the carbs. This Low Carb Mushroom Risotto with Cauliflower Rice is sure to be a crowd-pleaser."
Get the recipe: Peace Love and Low Carb
15. Best-Ever Keto Tortillas
From the author: "A lot of people talk about how much they miss bread on the Keto diet, but what about tortillas?! Without them, there are no quesadillas, no enchiladas, and definitely no cheesy taco casserole. These tortillas are sturdy enough to hold up to whatever you fill them with, and they're ready in under 30 minutes."
Get the recipe: Delish
16. Spinach Artichoke Stuffed Peppers
From the author: "When you are craving a warm, quick, and comforting meal, this Instant Pot Broccoli Cheese soup will satisfy your every craving! This recipe is low-carb, nut-free, egg-free, coconut-free, gluten-free, and grain-free, and can be prepared, cooked, and served in 1 hour!"
Get the recipe: Delish
17. Cheesy Hearts of Palm Dip
From the author: "If you are sick of missing out on hot, cheesy, dips because you are dairy sensitive then this recipe is for you! If you are toying with the idea of doing less meat or are already a strict vegetarian, this recipe gives you the texture of crab by using the low-carb vegetable hearts of palm; makes it one of the best low carb vegetarian lunch ideas."
Get the recipe: ruled.me