Thighs with the gap, is that what you want to show off in next summer?
This is something every woman dreams about yet for most of them it just remains a dream because thigh fat is quite stubborn and these ladies are not practicing the right moves.
All you need is a set of perfect workouts combined with a proper diet.
We bring you 6 simple workout plans that would surely make you go out confidently in your favorite pair of shorts. So, no need to wear skinny jeans anymore to make your thighs look slim!
If you have made up your mind on shedding those fats then read on!
Please save this image on Pinterest to read later! 🙂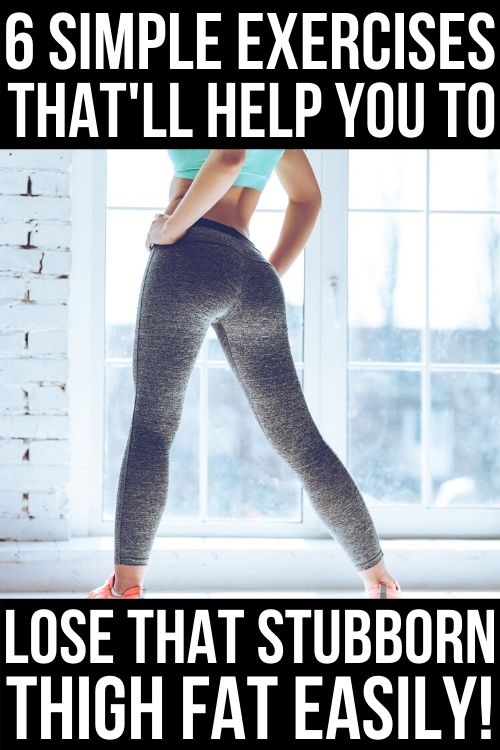 6 Easy Exercises to Reduce Thigh Fat at Home
These exercises sculpt your thigh muscles and blast away the flab.
For beginners, a jog will do fine for at least 30-45 minutes but gradually you should increase your pace and time of walk or run.
Read on for six simple exercises to reduce your leg fat and tone your legs.
1. Squatting:
Get yourself equipped with squat regularly and feel the difference it makes to your thighs as well as whole-body muscles.
Steps to do squats
Stand with feet at slightly more than shoulder-width.
Extend your arms ahead of you.
Straighten your back inhale deeply and dip your hips until your thighs are parallel to the floor.
Exhale and return to the standing position.
Repeat it as much as you can.
You might also like: 20-Minute Morning Exercise Routine to Stay Fit for Life
2. Do lunges:
It's very effective to do forward lunge to tone your thighs muscles.
Steps to do squats
Stand straight.
Place your one leg ahead of the other.
Anchor your forward foot on the ground as to make your thigh parallel to the ground.
Meanwhile, straighten your other leg behind you to do the exercise effectively.
Do with the other leg and keep 15-20 reps.
You might also like: 7 Slim Arm Workouts to Get Rid of Flabby Arm Fat
3. Circling circles:
It's fun to do this workout but it's completely reliable when comes to reduce thigh fat.
Steps to do squats
Simply lie down and place your arms straight beside either side.
Lift one leg to make your foot pointing towards the ceiling.
Now, start drawing circles with your leg clockwise and then anti-clockwise.
Repeat with the second leg.
Make sure to do at least 5 repeats in both directions.
4. Jumping jack:
This workout will not only targets thigh fats but also strengthens your arms, core, and legs.
Steps to do Jumping jacks
Start with a straight back stand up with your arms at your sides.
Jump off the floor meanwhile split your legs wider than shoulders and raise your arms above your head.
Come to the start point and repeat for 10-15 times in 3 sets.
5. Step-ups:
You might have guessed from the name that it must be something like stepping on the stairs. This is a perfect move to burn thigh fat quickly.
Steps to do steps-ups
Consider doing it on things such as a strong bench, chair, and stool or easily on the staircase.
Step on and off your stepping equipment by alternating your feet with a constant and slightly high speed.
Better do this simple yet effective exercise 3 to 5 times in a week with 20-30 reps.
6. Brisk walks:
If you want a cherry on top kind of situation, you should consider running or brisk walking as it will not only target your thigh but regulate your overall internal and external health.
What else can help you in getting toned thighs is the diet you are taking in. Make sure to munch a protein-rich diet and stay away from food that is sugary and filled with refined carbs.
But remember, you can't successfully lose fat in your thigh without losing overall body fat. And losing fat can only be done successfully with a combination of diet and exercise.
As we always said, a healthy routine is the easiest way to manage your healthy eating and fitness goals.
Stay active and healthy!