Yoga is a mind and body practice that improve your flexibility, strengthens your muscles, centers your thoughts, elevates your spirit, and relaxes you.
But more than just an exercise form, Yoga is a way to live life.
Unlike the other exercises, yoga is so simple to do and anyone can practice it from the comfort of the home just like other 46 percent home lover yogis.
According to a survey, 46 percent of people love to do yoga at home instead of a studio or gym.
Yoga is packed with tons of exceptional health and mental benefits. It relieves stress & anxiety, improves heart health, reduces your body aches & pains, improves breathing and sleeps quality.
So why not incorporate yoga practice into your daily routine?
There are more than a dozen yoga accessories and products available that provide you assist while doing yoga. From the Yoga mat to the towel, Yogi mala to water bottles and list goes on.
Simply utilize some smart yoga accessories that help deepen your yoga sessions, prevent pains and injuries and provide you with a comfortable environment.
15 Yoga Essentials to help you motivate your practice!
So are you ready to twist, turn, stretch, and breathe with these cool yoga essentials?
The Classpass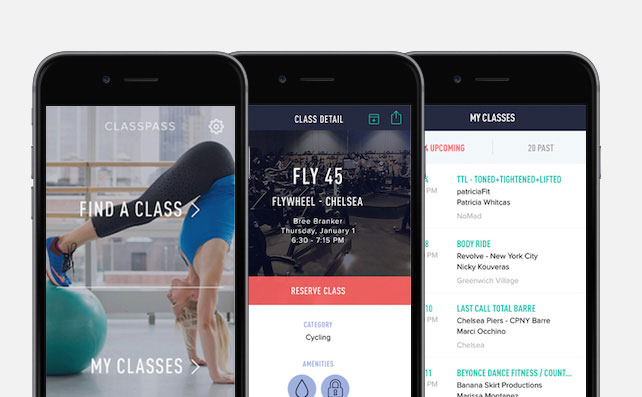 One Pass, Unlimited Class!
Are you feeling lonely or bored while practicing yoga? Do you want to make new yoga Friends?
Meet Classpass an innovative platform that provides you access to over 9000 global classes at studios, fitness clubs and gyms worldwide. Find one near you and gets the benefit of not only Yoga rather Strength Training, Cycling, and More.
With Classpass you can access on-demand fitness routines easily accessible on your smartphone.
And all this comes on a flexible monthly subscription-based fee. Want to give a try?
Pinch Provision Fitness Kit
This is so handy!
Take this little cute kit in your gym bag to toss your teeny-tiny essentials from dry shampoo to blister balm, earbuds to safety pins, pain reliever to adhesive bandages and a hair tie to a headband or breath mints, deodorant etc. The list is too long.
Yoga Blocks
Yoga blocks are really useful for yoga beginners as well as a pro. It makes a lot easier for a beginner to find better alignment in the absence of flexibility. And blocks help pros to maintain anatomical integrity in various kinds of poses.
But before buying, remember your yoga blocks should not very heavy, slippery and sharp in edges.
You could have this marble print sweaty betty block, light in weight and very durable to easily carry in your bag.
Zenguin Mugs
This yoga-inspired coffee mug set will surely add a pop of good vibes to your morning coffee.
What makes this cup a special piece, you can customize this mug set with your favorite yoga quotes that will inspire you every single morning.
This cup set comes in a colorful box with the assurance of dishwasher and microwave safe tag.
Yogi Pug Art Prints
Blank walls are not so welcome!
Elevate your space with some yoga-inspired cuteness. Hang this Yogi pug wall poster designed by Huebucket which comes in different sizes and color options.
They made with 100% cotton, acid, and lignin-free archival paper comes plus an ultra-smooth background finish.
Pop Your wall now! Society6, $26.47
Light on Yoga

: The Bible of Modern Yoga
"The Light on Yoga", provides you a classic guide to the philosophy and practice of Yoga for body and mind. It is a definitive guide on yoga postures that will surely beneficial for yoga lovers.
Yoga Mala Beads
Who not love jewelry?
And if you are a yogi… Yoga mala beads are a perfect choice to add style to your yoga practice sessions.
A yoga jewelry mala is more than just your ordinary jewelry piece. Each yoga mala has a combination of certain stones and crystals or rudraksha which are of certain internal energy & power.
This Clarity Mala is the significance of a clearer mind. Comes with a quartz stone, known for its healing benefits that help you to amplify your energy power to achieve goals?
Wear this Clarity Mala as a necklace or a bracelet or whatever you want to receive its healing and spiritual benefits.
Available at Bloominglotusjewelry, $118
Yoga mats
Yoga mats are the most used item of your yoga session. So It should Inspire You to Do Yoga Every single Day.
There are many options available, from cheap plastic ones to high-quality natural material made mats. Varies with the colors, quality, pattern and other special features.
But always go for a yoga mat that is comfortable and easy to maintain.
Get this leaf mat at Amazon, $78
Yoga Towels
Yoga towels keep your mat clean and dry to prevent the risk of slipping, especially if you love Bikram Yoga(A hot Yoga Type).
Basically, they are the same in the size as a standard yoga mat. But don't just grab one from your bathroom, choose a yoga towel which should be Super-absorbent, sticky, soft, and a bit modern & stylish.
Check this one, designed in Bali and perfect for hot yoga sessions.
Yoga Bag
Sometimes carrying your mat can be irritating?
To make sure you do not feel uncomfortable, there is a huge variety of yoga bags available to be an ideal companion for trips to the gym or studio.
Yoga bags vary from fashionable to functional.
Your yoga bag holds everything from your phone to water bottle from towels, belts, mats, water bottle, muscle relaxer oils, extra tees, blocks etc. So it should have a perfect balance of fashion and functions.
Starts from just $29.45 at Amazon
Yoga Strap
To carry a yoga mat it is necessary to have a separate yoga mat bag or at least a strap.
In case you just want to go bag-free. Then Yoga Strap would be the best option.
By the way, carrying your mat is not the primary purpose of a yoga strap. Just like the blocks, yoga straps are also helpful to be more flexible and supportive of poses.
Yoga Mat Holder
Yoga mat Holder is an innovative way to hold your yoga mat at one place and better organized. This yogi inspired mat holder is handmade and wall-mountable which has a shelf to display some cute little things.
Incense Sticks
Enhance the power of your Pranayama and meditation sessions with these relaxation incense sticks. Create an air of calm with relaxing scents including sandalwood, jasmine, Lavender, Lemongrass, etc.
Yoga Room Decor
If you are a Yoga Lover then you really passionate about bring some yoga-inspired decoration to your home. Then these kinds of decorative pieces are perfect to improve your space affordably.
Make your yoga room blank space pop with this "yoga pug warrior" art poster.
Grab your hands on this unique piece at society6, $25.99
Water Bottle
Up to 90% of human body weight comes from water. And It's so important to stay hydrated all the time. So don't forget to take water bottles before, during and after your yoga practice.
Ditch plastic or disposable water bottle and grab one of these stylish, eco-friendly reusable water bottles.
Available in 14 different colors on Amazon start from $21.93