Need ideas for fall essential oil blends? Check these 11 fall essential oil diffuser blends to make your home smell warm and cozy all season long.
Fall is here and Winter is coming!
And If you are a fan of essential oils like I am, you will love this list of my favorite essential oil diffuser blends to warm your home up from the inside in the cold months ahead.
These essential oil blends are your helping hands to celebrate the impending holidays and also turn your home or office into a stress-relieving oasis.
Not only do essential oils make your home smell amazing, but they also offer a wide variety of health benefits.
Please save this image on Pinterest to read it anytime! 🙂
Diffusing fall essential oils blends
Diffusing essential oils is really simple! And you can easily get the maximum benefits of essential oils every day.
A few essential oil drops can add magic in the air that can actually help clean the air and make us feel better.
All you need is a diffuser which is a unique household must-have. Diffusers come in all different shapes, and styles, from USB to necklace diffuser and waterless to a mind soothing car diffuser.
Here is the list of my favorite diffusers.
A sleek and decorative diffuser with pretty lace-look design, a great addition to just about any space.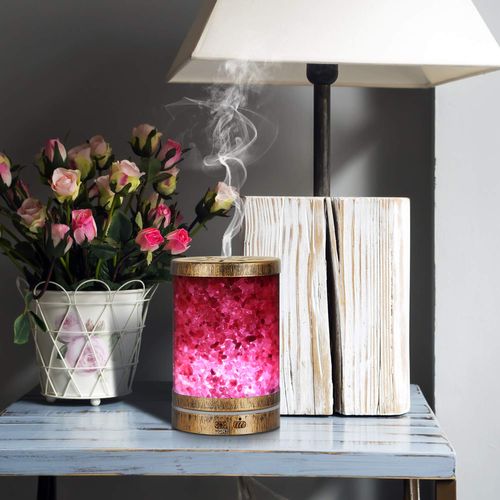 If you in love with amazing pink Himalayan salt rocks benefits, look no further and grab this salt lamp diffuser.
A wonderful piece of aromatherapy jewelry, which is light in weight and available in 6 different locket pendants. Currently, I'm using this triangular shape necklace which looks minimal and gorgeous.
Super portable and handy waterless essential oil diffuser, perfect for travel and for small spaces such as on a desk at work, in the car, in a bathroom.
Like Essential Oils? You may also like this:
15+ Super Beneficial Essential Oil Life Hacks for Beginners
Where to buy essential oils?
Knowing where to buy essential oils isn't simple!
Diluted or poor quality essential oils can be ineffective, so you should be careful not to settle for anything but the best.
I usually get my essential oils from a few places, some from Plant Therapy which provides therapeutic grade essential oils all are 100% USDA certified organic. And sometimes a few bottles from the local food store.
If you are a beginner, you should start with a few really versatile ones that you can use in so many ways essential oils like Lavender, Orange, etc. are perfect!
You can also pick this Plant Therapy Starter Essential Oil Set which has the top 6 essential oils.
11 Fall Essential Oil Diffuser Blends That Smell Amazing
Your diffuser requires only some water and a few drops of these amazing fall blends to bring a little comfort and joy to your home, office or car.
Give it a try, you'll love it too.
Like seasonal blends? You may also like this:
21 Must-Try Summer Essential Oil Diffuser Recipes Blends
15 Best Spring Essential Oil Diffuser Blends
1. Autumn Air
4 drops Orange + 3 drops Lemon + 2 drops Cinnamon Bark + 1 drop Clove
2. Holiday Cookie
3 drops Cinnamon + 3 drops Vanilla + 3 drops Orange
Read more: 15 Best Essential Oil Roller Bottle Recipes for Beginners
3. Cold Relief
2 drop Eucalyptus + 2 drop Clove + 2 drop Cinnamon + 2 drop Orange
4. Fall Leaves
6 drops Spruce + 2 drops Eucalyptus + 2 drops Wintergreen + 1 drop Rosemary
5. Spicy Chai
3 drops Cassia + 3 drops Clove + 2 drop Ginger
Read more: 21 Beginner Friendly Essential Oil Combinations for Diffuser
6. Pumpkin Pie
5 drops Cinnamon + 1 drop Clove + 1 drop Nutmeg
7. Pumpkin Spice
5 drops Orange + 3 drops Cinnamon + 2 drop Clove + 1 drop Nutmeg
8. Halloween Trick-or-Treat Blend
5 drops Wintergreen + 3 drops Cinnamon + 2 drops Clove
Read more: 7 Best Essential Oils for Skin Repair (Fight Acne, Wrinkles and More!)
9. Crisp Morning
3 drops Grapefruit + 3 drops Orange + 3 drops Basil
10. Fall Rain
6 drops Clary Sage + 4 drops Bergamot + 2 drop Lavender
11. Spiced Citrus
6 drops Orange + 2 drop Ginger + 2 drop Cinnamon + 2 drop Clove
Do you have any favorite fall scents? Sharing is a good idea! 🙂