In the world full of glamour, everyone seems to be driven by the idea of having skin so flawless and perfect; and for that, they get their hands on expensive beauty products by high-end brands.
But still, sometimes they're just spending their hard-earned money lavishly without getting a long-lasting effect.
It's time to switch to natural ways to combat your skin problems with minimal reaction risk and maximum ever-lasting benefits.
And guess what essential oils are getting all the right fame in this matter. You may come across a range of best essential oils for skin repair when looking for skincare products.
First, you must know what essential oils are and where they come from. These are the compounds drawn from the essence (scent and flavor) of a plant through mechanical method or cold pressing.
Interested in Essential Oils? We have a very popular series on how to use essential oils like a pro.
15+ Super Beneficial Essential Oil Life Hacks for Beginners
21 Must-Try Summer Essential Oil Diffuser Recipes Blends
15 Best Essential Oil Roller Bottle Recipes for Beginners
7 Best Essential Oils for Dry Skin
These chemical-free oils are more beneficial as they come straight from the plant however they can cause some allergies to sensitive skin but all in all, they are considered safe to use.
You might also like: 15 Green Beauty Organic Skin Care Products for Sensitive Skin
If you are prone to get any reaction from plants and their aromas you must have a test application on inside of your elbow with diluted (mixed with a carrier oil) essential oil.
Please save this image on Pinterest to read it anytime! 🙂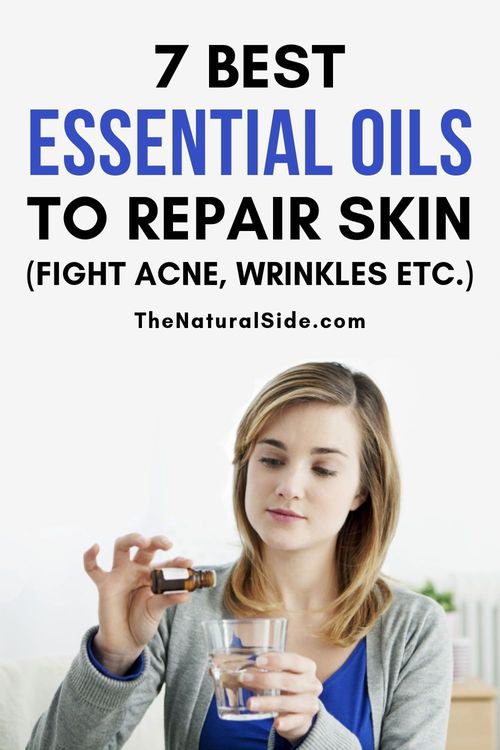 7 Best Essential Oils for Skin Repair and Healing
These are my go-to essential oils for all skin needs!
Now, it's time to reveal to you the best essential oils for skin repair that will generate although the slow but long-lasting healing impact on many skin conditions.
So let's get in!
1. Acne:
This is the most common skin problem that gets worse if not treated well and on time.
Tea tree oil is considered the best solution to acne as it is antimicrobial, antiseptic and antifungal. Not only does it clear the existing acne but it also prevents new breakouts from occurring.
Quick DIY Recipe: The best way to use is by mixing 12 drops of tea tree oil with ½ teaspoon of coconut oil and 2 tablespoons of 100% aloe vera gel. Apply before sleeping and wash in the morning.
Read more: 3 Super Easy DIY Ways To Remove Blackheads At Home Instantly
2. Wrinkles:
They appear with the process of aging and it's better to make them less visible and less bad as the environmental factors can worsen them.
Lemon oil is scientifically proven to be the solution for wrinkles as it reduces the effects of oxidative stress on your skin and controls the aging-radicals.
Quick DIY Recipe: Mix 20 drops of lemon oil + ½ cup of safflower oil. Use it every day before sleep.
Read more: 25 Surprising Anti Aging Habits to Look Younger
3. Damaged skin:
If your skin is damaged in ways such as surgery scars, stretch marks, age-spots, and marks left after acne then frankincense oil is considered one of the best essential oils for skin repair.
frankincense oil heals the skin and increases the cell growth that generates new skin cells.
Quick DIY Recipe: Take the best result by mixing with a carrier oil (Fractioned coconut oil & sweet almond oil are my favorites) and apply daily.
Read more: How to Get Rid of Dark Lips Fast in 7 Days
4. Rosacea:
Sensitive skin (rosacea) is a common skin problem in aged women or especially women with fair complexion. Irritations, redness on the cheeks, swollen nose or red lines under the skin are the common symptoms.
Chamomile oil being the anti-inflammatory can reduce the redness and irritation.
Quick DIY Recipe: Mix 3 drops of Chamomile oil with ½ teaspoon of coconut oil. Use it twice a day!
Read more: 15 Green Beauty Organic Skin Care Products for Sensitive Skin
5. Eczema:
If you have skin that is dry, rough and sometimes itchy to such a level that you cause your skin to bleed by itching then rose or lavender essential oils are heaven for you.
These oils heal the skin from deep inside by opening the pores and letting the oils into the skin.
Use rose or lavender oil regularly to combat your eczema, sunburn or ingrown hairs.
Read more: 7 Best Essential Oils for Dry Skin
6. Dull skin:
Your skin gets dull and discolored by several factors, it's better to rejuvenate it before it completely lacks the ability to shine.
Ylang-ylang oil is considered a skin preserver as it contains antioxidants that regenerate skin cells, repair lipids and proteins in your skin and refreshes it.
Quick DIY Recipe: Mix 2-3 drops of Ylang-ylang oil with 1 teaspoon of coconut or jojoba oil and use the mixture every day.
7. Oily skin:
Oily skin tends to develop many skin problems and to keep this type of skin clean and healthy is a tricky thing to do. Well, geranium oil is among the best essential oils for skin repair and particularly oily skin problems.
Geranium oil is non-toxic and non-sensitizing and deals with several skin issues such as clogged or congested pores and dermatitis.
Quick DIY Recipe: Use geranium oil with a carrier oil (Fractioned coconut oil or sweet almond oil) and for best results apply it for the whole night.