Dry skin feels rough and tight, even itchy and painful.
Your skin might tend to be dry. But even if you have naturally oily skin, still you can develop dry skin from time to time and conditions.
Basically, dry skin occurs when the skin lacks moisture in the corneous layer of skin.
It is really hard to manage skin if you have dry skin type as it irritates most. Caring for skin that is dry is as tough as caring for skin that is oily.
A consistent daily skin care routine is the trick to tackle dry skin problems. From moisturizers to cleansers to exfoliators, there are a few certain dry skin dedicated products that can make your skin care routine doable for you.
You Might Also Like
Whiten Underarms Fast and Effectively with 4 Easy Steps
How to Get Rid of Dark Lips Fast in 7 Days
Out of time? Read it later! Pin This Image to Your Beauty Board 🙂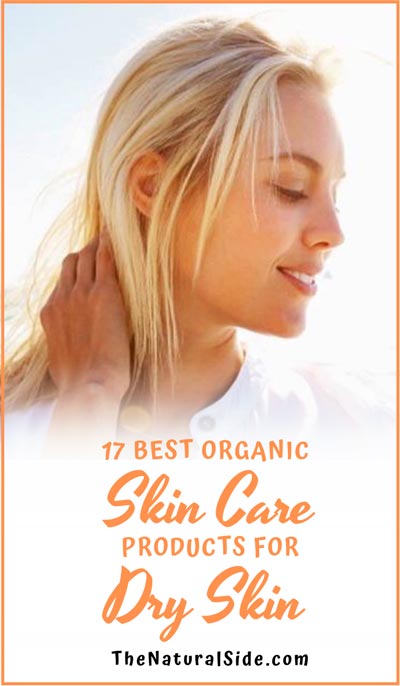 Natural Skin Care Products for Dry Skin
Dry skin requires special care that's why daily skin care routine for dry skin is so important. In this article, we bring you some of the best organic and chemical fewer products to use in your daily skincare routine.
Cleanser
Wash your face with a hydrating cleanser in the morning and evening.
Cleansing is the most important step no matter what your skin type is. Dry skin doesn't seem greasy and dirty but still, it needs to remove any impurities and sweat from the skin. Your skin is dry and it needs hydration, here cream cleansers fit perfectly. Here are two best cleanser picks for dry skin.
1. Christina Moss Naturals Skin Clearing Cleanser
2. Dr. Alkaitis Organic Purifying Facial Cleanser
Toners
Use cotton balls to gently apply toner after cleansing your skin.
Toners may not necessary but still, you should use a good toner to clean any makeup residue and dirt. Remember to strictly avoid toners containing alcohol as they may make your skin more dry and irritative. Here are a few alcohol-free toners to choose from.
4. Odacite Aloe + Immortelle Hydra-Repair Treatment Mist
Serums
Opt for hydrating serums in your AM and PM skin care routine.
Serums are pretty similar to the moisturizers by ingredients and properties. As moisturizer tends to hold the moisture on the top layer of skin, while serums absorbed by the deep layers of the skin easily and seal the active and healing ingredients inside the skin. Aimed for a hydrating serum that locks moisture on your uppermost skin.
6. Body Merry Hyaluronic Dew Serum ($18.04)
7. Valentia Royal Rose Hydrating Serum
8. Kypris Natural Antioxidant Dew Facial Serum ($72)
Moisturizer
Use moisturizer twice a day right after washing your face to lock the moisturizer in your skin.
Moisturizers become more vital as your dry skin needs to be more hydration and moisturization, especially in the winters. You should pick a rich moisturizer that keeps your skin hydrated all day long without adding additional dryness.
Avoid using moisturizers that contain alcohol, synthetic fragrance, and fillers. These moisturizer dries your skin fast and leaves a greasy residue on your skin. Check out these two best and highly rated moisturizers.
10. May Lindstrom The Blue Cocoon
Sunscreen
Don't forget to use them if you are planning to go out in the sun.
Every type of skin needs protection from the sun's harmful UV rays. For dry skin, make sure your sunscreen got a creamy and hydrating formula. You can go for a separate sunscreen or opt for a moisturizer with SPF like Suntegrity's 5-in-1 Natural Moisturizing Sunscreen.
11. Beauty By Earth Facial Sunscreen
12. Andalou Naturals Vitamin C BB Cream