As you already know plant-based diets are healthier, environment-friendly, and really yummy. And one other benefit is, they don't take too much time. So cooking vegan meals on weeknights can be simple.
Even if you're not a full-time vegan, these recipes are a great way to start eating a more plant-based diet. So you'll surely love this.
In this post, you'll find 25 easy vegan dinner recipes that are perfect for busy weeknights. Try out your favorites, and don't forget to pin and save any you would like to try on your social media! Enjoy!
25 Super Healthy Vegan Dinner Recipes for Weeknights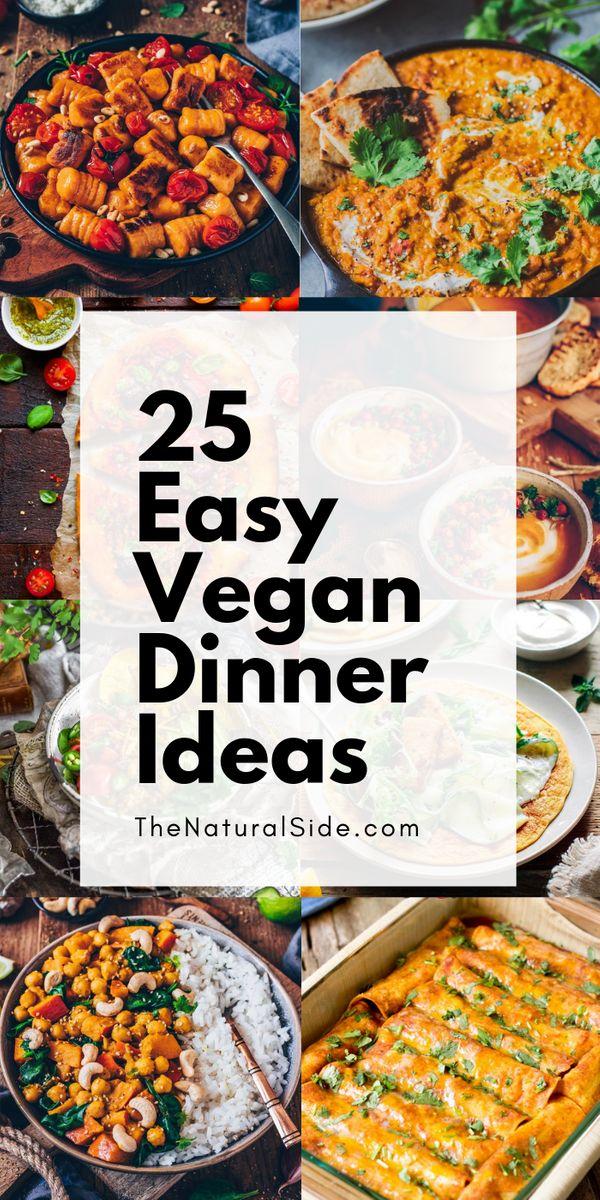 1. Roasted Squash Soup with Crispy Chickpeas
"This is the season of pumpkins and squash. But you can freely use sweet potato. chili and a pinch of cinnamon to add some extra warmth to this soup."
Get the Recipe BosKitchen
2. Caponata Sourdough Pizza
"Can you believe this is a ready-made, vegan pizza? This caponata pizza with some fresh tomatoes, basil and a little sprinkling of chili flakes for an extra kick!"
Get the Recipe BosKitchen
3. Vegan Sesame Tofu Dumplings
"Vegan dumplings filled with tofu, Chinese cabbage, Chinese chives, cilantro, and minced ginger."
Get the Recipe nmmeiyee
4. Vegan Potstickers
"Flavourful steamed vegetable filling with homemade dumpling wrappers."
Get the Recipe nmmeiyee
5. Pumpkin Chickpea Curry
"Not only it tastes delicious as an ingredient for pasta dishes, such as my vegan Pumpkin Mac and Cheese or my Lentil Pasta with Creamy Coconut Sauce but also in addition to rice."
Get the Recipe BiancaZapatka
6. Vegan Sweet Potato Gnocchi
"Making gnocchi with sweet potatoes is easier than you might think. Serve them crispy pan-fried with oven roasted tomatoes for a perfect comfort meal!"
Get the Recipe BiancaZapatka
7. Roasted Vegetable Quinoa Buddha Bowls
" This one contains roasted sweet potatoes, cauliflower, brussels sprouts, black beans, raw leafy greens, cherry tomatoes, and avocado. The bowls are easy to assemble: leafy greens on the bottom, everything else on top."
Get the Recipe HannahChia
8. Loaded Sweet Potato Fries with Roasted Shishito Peppers
"Loaded baked sweet potato fries with curried red lentils, crispy crackly roasted shishito peppers, and a creamy garlic lime tahini sauce."
Get the Recipe HannahChia
9. Creamy Tex-Mex Stovetop Casserole
"Creamy Tex-Mex Stovetop Casseroles are Packed with tons of nutritious ingredients like sweet corn, protein-packed black beans, and hearty rice makes it a fabulous dish the whole family will love."
Get the Recipe Monkey and Me Kitchen Adventures
10. Vegan Greek Chickpea Salad
"This tasty Asian sauce perfectly coats rice noodles creating this delightfully sticky dish of yumminess. Add some tiny broccoli florets, sliced green onions, and chopped baby spinach."
Get the Recipe Monkey and me Kitchen Adventures
11. Creamy Butternut Squash & Roasted Tomato Pasta
"A super creamy pasta with roasted butternut squash and blistered roasted tomatoes."
Get the Recipe HealthieNut
12. Spicy Italian Chickpea Pasta
"A light and flavorful tomato sauce embedded with fresh herbs and paired with crispy spicy chickpeas. Crunchy chickpeas are my favorite topper on a dish and the texture pairs perfectly with the chewy noodles."
Get the Recipe HealthieNut
13. Creamy Tomato Soup with Delicious Toppings
"The balance between sour and sweet is just perfect. The crunchy toppings fit perfectly too."
Get the Recipe Kalara's Life
14. Green Minestrone
"green minestrone, Packed with lots of vegetables and filling carbohydrates. Easy and comforting. Perfect fall soup meal."
Get the Recipe Klara's Life
15. Vegan Bacon Ranch Pizza
"The base is a whole wheat pizza crust topped with marinara sauce, then add on some coconut bacon, avocado ranch, and kale."
Get the Recipe Well and Full
16. Vegan Autumn Panzanella
"This vegan autumn Panzanella is the coziest bread salad you'll ever have! With roasted brussels sprouts, homemade croutons, and maple tahini vinaigrette. The crispy roasted brussels sprouts and everything is drizzled with a killer maple tahini dressing."
Get the Recipe Well and Full
17. Creamy Cucumber Salad with Miso Tempeh
"This cucumber salad comes with a creamy garlic yogurt dressing, miso-glazed tempeh and is served on top of a soft chickpea omelet."
Get the Recipe Full Of Plants
18. Vegan Plantain Lasagna
"It starts with the bolognese: red lentils make the base, mushrooms, and walnuts bring more texture, and spices like cumin, oregano, and ground chili spice up everything."
Get the Recipe Full of Plants
19. Vegan Red Lentil Curry
"It's packed with flavor thanks to the fresh garlic and ginger, along with the Indian spices."
Get the Recipe Rainbow Plant Life
20. Vegan Fettuccine
"It is roasted cherry tomatoes for a juicy bite, along with lemon zest and fresh basil for a bright finish."
Get the Recipe Rainbow Plant Life
21. Vegan Irish Stew
"Hearty vegetables in a rich, earthy, thick stout beer broth."
Get the Recipe It Doesn't Taste Like Chicken
22. Crispy Buffalo Cauliflower Poppers
"These cauliflower poppers are baked not fried, making them a healthier option, all while being crispy and delicious!"
Get the Recipe Dashing Dish
23. Vegan Buddha Bowl
"This vegan buddha bowl has it all – fluffy quinoa, crispy spiced chickpeas, and mixed greens topped with a mouthwatering red pepper sauce!"
Get the Recipe Well and Full
24. Black Bean Vegan Enchiladas
"These enchiladas are packed with complex flavors, plenty of nutrition and antioxidants from the black beans, tomatoes, and garlic, et al."
Get the Recipe Light orange bean
25. Vegan Chickpea Tikka Masala
"Here's the lowdown about this dish: rich, spicy, hearty, delicious. The gravy is delicious and works perfectly with the chickpeas."
Get the Recipe The Iron You