The Ultimate Healthy Lifestyle Guide: 17 Simple Steps to Begin Now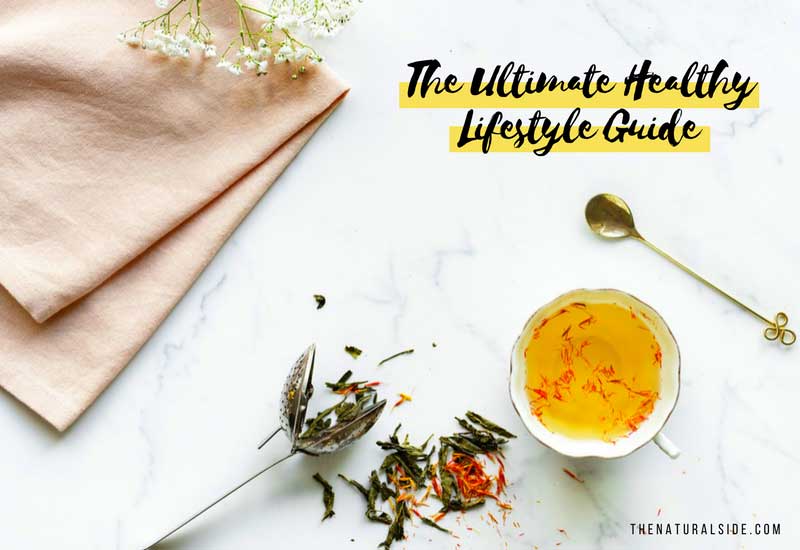 Want to live a long and healthy life? Here is the step by step Healthy Lifestyle Guide that will nourish your mind, body, and soul to live happy and positive life. This Healthy Lifestyle Guide walks you through Healthy Eating to Homemade chemical free products, Caring Yourself to Exercising and much more.
Do you know the top 5 leading death causes in the world?
Cancer, Heart diseases, Stroke, Chronic lower respiratory diseases, and unintentional injuries.
Then you should check out this hilarious figure too.
In the US alone, all these diseases together cause nearly 63% premature deaths each year and this number is still growing." A Study found.
That's insane! Doesn't it?
These diseases are defined as the Lifestyle Diseases, associated directly with the way people live their life.
And you know that. We live our life with unhealthy bad habits, improper routines and inadequate quality of living.
So what to do?
Importance of Healthy Lifestyle
According to a research from the Centers for Disease Control and Prevention, yet up to 40 percent of the deaths from each cause could be prevented.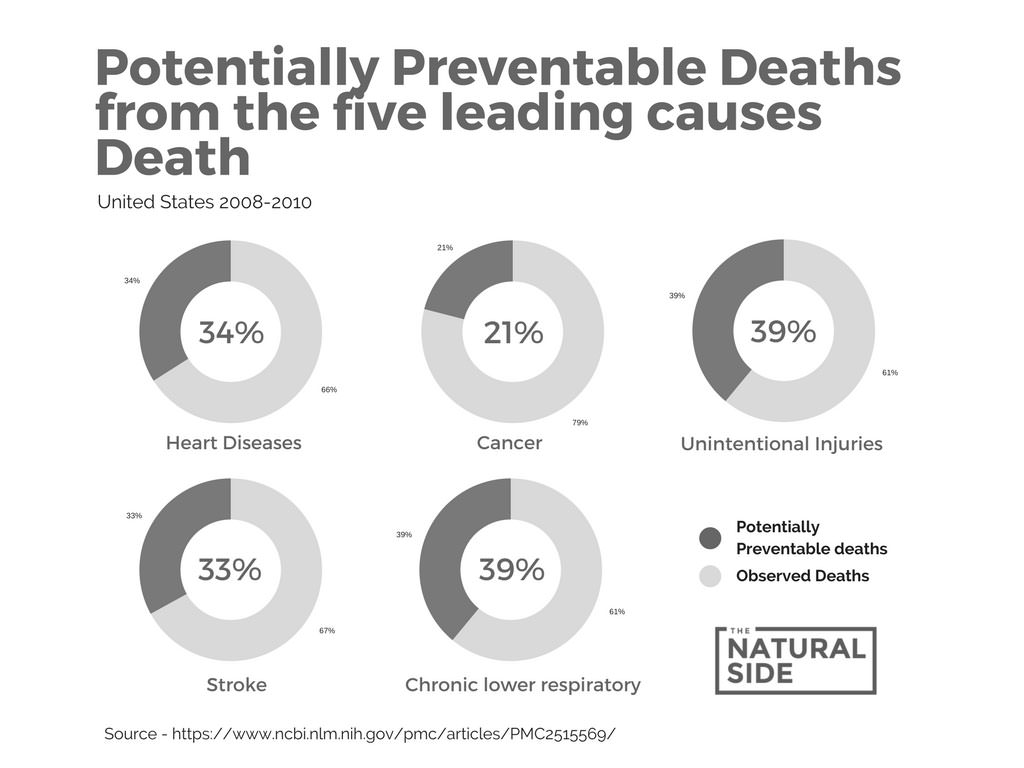 But What you have to do to reduce the chances of being caused by these deadly diseases?
so simple!
LIVE A HEALTHY LIFESTYLE!
It is time to turn those positive numbers to possible numbers through live the more powerful, pure and Healthy Lifestyle.
How to Live a Healthy Lifestyle
Healthy Lifestyle is nothing just making a few simple changes in your daily routine and activities including diet, physical activities, relationships, self-care, sleep, and health. While building up a positive attitude and a positive self-image.
Your first step toward a healthy lifestyle is avoiding bad habits and health-risk behaviors including drinking alcohol, cigarettes, tobacco, junk food etc.
Then focusing on healthy eating, proper exercise routine and involving in many good habits that lead to a happy and healthy lifestyle.
So without further ado, let's dive into the Ultimate Healthy Lifestyle Guide packed with many healthy lifestyle tips and hacks.
17 Steps Healthy Lifestyle Guide
We have divided Healthy Lifestyle Guide into 17 Simple actionable tips that make it smooth and easy to understand for you.
These are the best possible ways to live a more healthy lifestyle without compromising your daily routine. Before we go further deep, don't forget to take our absolutely Free Healthy Lifestyle Planner that will help you track your healthy lifestyle journey.
So Here we go…
Healthy Eating
Your body is a perfect reflection of the way you treat it. And the best way to treat the body well by making right food choices.
You need to just take two straight actions.
First, Our bodies need 5 essential nutrients such as Carbohydrates, Proteins, Fats, Vitamins, and Minerals to stay healthy and survive. And the best way to get these nutrients is to take well-balanced diet or Eating Well.
Second, Avoid the Junk Food as much as you can.
1. Vegetarian or Non-Vegetarian Diet?
For different sort of activities, you need a different kind of body. Whether a bodybuilder needs a protein-rich diet, Sports individuals need more energy.
"According to the different types of activities, the vast majority are associated in nowadays, vegetarian food is better for the system than non-vegetarian food." ~ Sadhguru
British vegetarians have low mortality compared with the general population. In 2006, 150,000 people in the UK opted for a plant-based diet. Today, 542,000 do. That's a 350% increase.
Read More: 10 Vegetarian Superfoods that lower Cholesterol
2. Go for Real Food
We choose the Vegetarian Diet, a diet in which any kind of meat is prohibited to eat.
So what to eat?
Easy to answer… Real Foods!
Real Foods are the plant-based Whole Foods that are unprocessed and unrefined or may be Organic. Whole foods include Fruits, Vegetables, Berries, Whole Grains, Beans, Seeds, Legumes, Dry Fruits.
3. Buying the Grocery
We are eating Real Foods on our brand new healthy journey but how is it possible without a power-packed grocery shopping?
In the beginning, Real Food shopping could be overwhelming and confusing for many people.
Because of lots of buzz words, and a bunch of different confusions going around such as should we eat grains or not? What to choose or not? Where to buy? How to get the best prices on products?
You will find solutions to all your confusions in this Real Food Shopping Guide written by Maria Marlowe. It has all the basic to pro level shopping tips and hacks that will save you money and time while eating well.
Or you can read these 25 Grocery Shopping Tips that packed with many new and useful info.
4. How to prepare a Vegetarian Diet Plan?
It seems tough to prepare a Diet Plan, doesn't it?
or maybe not?
Some of the basic principles are as follows, you should always keep in mind to prepare a meal plan.
Uncooked or Cooked Food?
Some foods are good to eat raw, and some become healthier when cooked. Eat a combination of both raw and cooked foods for maximum wellness.
Multigrain Meal
TIME labs reported that 44% of Americans consume less than the recommended 6 oz of grains per day. That's about 6 slices of bread or 1½ bagels.
If you're like many people, eating a few of the Grains, Bran flakes for breakfast and wheat bread for sandwiches, this is an unusual pattern. So It is important to bring in a multigrain diet.
Seasonal Selection of Food
You should eat as per the needs of the body, In short, choose the food to eat according to climate or whether we live in. Include a variety of seasonal vegetables, fruits or foods in your meal plan.
Choose the food that fulfills the seasonal requirement of your body.
DIY
We are using lots of different products; packed with tons of harmful ingredients that linked with many health problems and skin disorders.
We need to ditch these type of chemical commodity forever.
Then what to use instead?
Simple! Make your own Chemical free Homemade products instead. means DIY, Do it Yourself!
You can DIY almost everything you could possibly want! So Say hello to all-natural products and goodbye to nasty ingredients.
5. Ditch Harmful Beauty & Cleaning Products
These two types of products are the heftiest area where we find daily care products for us and our home.
Research by a Natural Deodorant Company found that the average woman puts a staggering 515 different synthetic chemicals on her body every single day.

And 60% of what we put onto our skin is absorbed into our bodies directly.
There are many beauty products that you can make for yourself at home. From Face Pack to body deodorant, Shampoo to Hair Spray, Laundry Detergent to Stain Remover, Dish Wash to Carpet Cleaner and much more.
6. How to start DIY in simple steps?
I know, now you are considering to make your own products, So Here are a few simple steps that get you going with DIY.
DIY Ingredients
If you are a DIY-er, there are a bunch of 'must have DIY Ingredients' that should be in your home. From base oils to essential oils, Butters to wax, clay to salts and obviously the water.
Essential OIls are an important part of DIY Homemade Products. Here we have prepared a super easy beginner friendly Essential Oils Guide that will walk you through how to use Essential Oils at Home. You can download our Free Essential Oil Safety Checklist too.
Equipment & Tools
We use lots of cooking equipment in our kitchen daily and here You'll find required tools easily. Such as mixing bowls, Metal and wood Spoons in different sizes, Hand Blenders, and Mixers, Chopping Knife and board etc.
But there are other special types of tools that complete the list of equipment, such as a variety of mason jars in different sizes for storage, Molds, Fine Mesh Sieve, digital scale etc.
Try these DIY Beauty Recipes
7. What should you make first as a new DIYer?
You have the essential ingredients and the right equipment to start.
but…What should you try first?
Should I go for a lotion or a balm or a face mask?
Don't panic. We have the quick fix here.
In the beginning, start with 2 or 3 ingredients OIL+OIL recipes, just mixing ones…Balm, Slaves, face masks, serums etc…
Then go for LOTION category next which include Sprays, Soaps and other cosmetics and other cleaning stuff.
Natural Remedies
You probably heard about the Home remedies to cure a cough, acne and blah blah blah…
According to the National Institutes of Health (NIH), one out of three people in the United States seek alternative forms of medicine including Natural Remedies.
In fact, home remedies are inexpensive and don't have side effects or chemicals.
In the addition, hassle and expense of conventional medicine continue rising. So why we not using mother nature's gift to cure our health and beauty problems.
More From Home Remedies
8. One very important point to understand
We can dramatically reduce the risk of deadly chronic diseases just by applying some lifestyle changes such as Food, DIY. But still there are possibilities to suffer from many other ailments, it could happen because of a variety of different reasons, System, environmental, etc.
These types of common ailments could be cure with the use of natural remedies.
Simple natural cures can be very effective in relieving symptoms and preventing further development of a disorder.
9. Check your Kitchen & Grow healing plants
Your Kitchen is the best place to get started with Home Remedies, Your pantry surely has some of the essential ingredients such as cardamom, Clove, Ginger etc.
But what's about the herbs?
Read More: Try this powerful Stretchmark Removal Homemade Solution
They are not so familiar with your pantries. Home remedies work very best when we have the handpicked ingredients, I mean fresh herbs.
The best way to get the fresh herbs is to start growing your own medicinal plants such as mint, basil etc.
Exercise & Fitness
Fitting in exercise around a busy lifestyle can be hard work. But actually, it is not, if you know what works best for you and how to get most out from it.
Doing the more planned physical activities is the next essential step towards our Healthy Lifestyle journey. So here is the step by step plan.
Read More: Boost Brain Power in a Week with this Homemade Powder
10. Different types of exercises what best for you?
There are different types of physical activities or exercises, each type of exercise has there own characteristics.
For an instance, if you are an overweight then you may burn more calories by increasing flexibility whereas athletes can avoid injuries by including strength-based exercises in their training.
So What should I do? Intelligent question!
No matter what you choose, One essential set of activity, everyone should do every day is the Yoga and Pranayam. Yoga and Pranayam have the power to prevent the most ailments as well as the incurable diseases.
11. How much exercise should you do?
According to the U.S. Department of Health and Human Services, daily minimum recommendations of physical activity include 150 minutes of aerobic exercise per week.
30 minutes of exercise per day is enough to fulfill the daily requirements for a healthy active body.
For this, it is not compulsory to go Gym every single day, you can do it from the comfort of your home with little-to-no equipment required.
In the addition, you can go Gym once a week (weekends are more preferable).
12. Plan combination of different types of physical activities
Different types of physical activities function on different elements of our mental and physical fitness.
Begin with simplest physical activity – the Walking, it is something most people can easily do, Start walking between 7000 to 10000 steps a day is one of the keys to fitness.
One mile is equivalent to 2,000 steps, and it takes about 20 minutes to walk.
For Weekdays, make a regular exercise routine of 20-30 minutes.
Read More: 10 Vegetarian Superfoods that lower Cholesterol
Add the majority of this daily morning exercise session time to move your body that improves your flexibility, balance, posture and strengthen your muscles. In short …Yoga. It is a practice that challenges the body both from inside as well as on the outside.
Include some breathing exercises such as Pranayama to make a variety in your session. Pranayam provides relaxation to your body and mind.
13. Tips for Exercise Routine
Do Warm up before beginning exercise.
Take quality sleep, if you don't get enough sleep, you won't have enough energy to train.
Drink eight 8-ounce glasses of water a day and stay hydrated.
Keep motivated by rewarding yourself at every step.
Care
Are you missing something in this healthy lifestyle guide?
You do!
A healthy Lifestyle can't be completed without a positive self-image and happiness.
Happiness is the Color of a painting called Life.
And we got the secret of Happiness.
"Caring"
Happiness comes from helping others and taking care of yourself, your sweet Home and your Mother Nature.
14. Grow your own plants in Garden as well Indoor
Meet your brand new healthy habit, the Gardening; and start growing plants outdoor as well Indoor organically.
Whether Indoor planting not just enhances your living space sightliness, rather also improves the quality of air by purifying it from bad components.
Gardening displays two beneficial sides.
Practically, we get the vegetables and fruits for our healthy diets, Herbs and other medicinal plants for the home remedies. Also improves the quality of air by purifying it from bad components.
Ethically, it reduces many environmental concerns of us about global warming, loss of biodiversity, the water crisis, and wildlife habitat destruction.
15. Start swapping the toxic products from your home
Your plants are doing their work perfectly to make your space more fresh & clean. And now it's your turn to do yours.
For this, you don't need to function like a plant…, just wisely swap the products you often use in or outside of your house that packed with chemicals.
Phase out the Plastic which has many toxic such as phthalates and BPA. Instead, Use glass stainless steel containers for storage, ceramic plates, wooden cooking utensils, reusable storage bags, and grocery totes.
Avoid Non-Stick Teflon cookware that contains PFCs. Glass, ceramic, stainless steel, and enameled are great options to switch.
16. Reduce the Garbage
One of the easiest ways to decrease the amount of waste is to bring in minimal packaging items in your home. Ditch the disposables and start relying on reusable items for such as mags, bags, totes, jars and even cloth diapers, bamboo towels etc.
Composite your house's waste and use it in your garden.
Composting can remove 20-50% from your household waste while it can help to improve your garden growth and health.
17. Say Yes to many tiny habits – SELF CARE
Self-Care is nothing just engaging in simple activities and behaviors to make them a habit. These tiny habits have a positive impact on your mental as well as emotional health.
Want some Self Care Ideas? Here are 101 Examples of Self Care Activites to get you go.
Sleep is one of the most fundamental acts of self-care. You should ensure that you are getting enough and quality sleep.
"Talk to yourself like you would talk to a lover" – Brene Brown
One of the most important things is, Self-care should be relaxing, delightful and enjoyable. Choose from the different types of Self-care activities which you'll particularly like to do.
Do you have any tips, you used to do? Then it would be a great idea to share them.
Related Posts:
How to Get Rid of Dark Lips in 7 Days at Home
One Home Homemade Remedy for Your Most of Hair Problems
Top 9 Health Benefits of Eating Cardamom Daily