10 Must-Have DIY Beauty and Cleaning Essentials to Make Your Own Products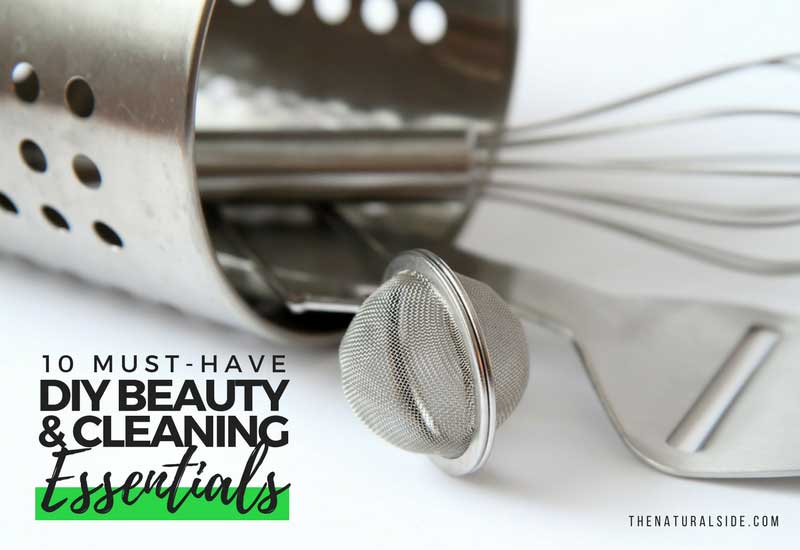 If you are still considering making your own Natural DIY products to replace those toxic Personal Care and Cleaning commodity forever that packed with many harsh chemicals.
So Here we are going to introduce 10+ Must-Have DIY Beauty and Cleaning Essentials to make Your own homemade products that will save you money and be having fun!
Earlier we have talked 7 Ingredients to Start with DIY Beauty & Cleaning Products, now time to go-to tools & Equipment that make the DIYing lot easier.
[Tweet "Did you know that your skin is your largest organ? Save your skin by making DIY Homemade Products."]
If you didn't download our FREE ESSENTIAL OIL CHECKLIST then why you are waiting for? Grab Now!
Fortunately, you don't need too much to start with DIY.
Just a kitchen, a few ingredients and you are ready to go. Why kitchen?
Because you will find most o the DIY tools over there but not all the tools. So…
Should I use dedicated tools for DIY Products?
You can make many DIY beauty products with your same kitchen tools, you used to make dinner and snacks.
But it is not true for every time. For some recipes, you need a dedicated version of the equipment that is comfortable for DIY recipes.
For an example- You never gonna like to use same tools for food which you used to melt beeswax for soap making.
Pro Tip: If you are not making lots of DIY recipes or you are a beginner, then you should use kitchen tools/equipment and skip buying them but if you love to make lots of recipes then the dedicated version of tools are essential.
So here are my picks of DIY beauty and cleaning essentials – tools and equipment.
DIY Beauty and Cleaning Essentials
1. Measuring Cups
Measuring Cup is surely a must-have tool for making the DIY products. For every time you make a new recipe, it is necessary to measure the quantity of ingredient.
You can use them in the vast majority of DIY projects such as Lotions, Body Butters, and Salves.
2. Measuring Spoons
Measuring Spoons are not special ones, these are the same you are using in your kitchen. So you can still use your kitchen measuring spoons to make most of the DIY recipes.
But remember to avoid using ceramic & bentonite spoons because they are not comfortable with clays.
You can try these cutesy measuring spoons that are super useful for measuring small amounts or you are working on small batches.
Read More: Cumin Tea for Weight Loss and Health Benefits
3. Mixing Bowls
Highly Recommended!
Almost every DIY recipes made in a mixing bowl or transferred to one at some point.
So in both cases, these are incredibly useful. And because they're glass, you can also use them with food after a good cleaning. it's a WIN, WIN!
4. Double Boilers
Double Boilers are very useful equipment to prepare homemade recipes. Why?
We need different types of ingredients for making the DIY products and It's too hard to warm some ingredients without burning them such as chocolate, beeswax and vegetable butter and carrier oils.
And this time Double Boilers come in the game that used to keep your ingredients from getting too much hot.
Read More: Beginners Guide to Essential Oils: How to Use Essential Oils & Benefits [Easy Way]
5. Immersion blender
Mostly we used immersion blenders while making lotions. We need a really smooth consistency for our lotions and sometimes in the masks. And it seems too easy with the help of immersion blender.
Now you are probably thinking about your regular Kitchen blender but Immersion blenders are little different. Immersion Blenders are a lot easier to clean than a regular blender. And they save your time and keep you away from not getting irritated.
If you are looking for a cheap option then this immersion blender is highly recommended.
6. Storage Jars and Spray Bottles
Just think about it… you have done making your body care lotion and then what you see, you don't have any proper storage container to store that.
What will you do?
Your all homemade products need to be stored somewhere. Before making your own products, you should plan to store them.
For this, you may need of different types of special storage containers such as a few smaller jars with lids for most of the DIY products, small tubes for lip balms, smaller cute spray bottles for facial toners, a soap dispenser for foaming soap, small flat Tin boxes for balms.
I highly recommend going with a neat set of mason jars that look clean, organized and pretty.

7. Amber Glass Bottles
Some of the DIY recipes may be light sensitive because of some of the DIY ingredients that show sensitivity towards the light, such as essential oils, herbal tinctures, and other food products.
That's why Amber Bottles are a must-have tool for packaging your organic beauty products.
Read More: Reduce Hair Problems with this Home Remedy in 7 Days
8. Digital Scales
Digital scale is one of the most helpful tools for weighing the DIY ingredients & recipes. You probably have a one in your kitchen but I prefer to go for a dedicated version that measures down to the smaller scale.
9. Cheesecloth
Cheesecloth has fine meshes that strain out infused oils from herbs. Alternatively, a Fine Mesh Strainer also works well.
Read More: Get Rid of BlackHeads Instantly in just 15 minutes
10. Others
Additionally, there are still many other tools that are really helpful to making DIY Products such as different cute molds to shape your homemade products, a whisker for creating emulsions (creams and lotions). for whipping body butter, Icing Spatulas for reaching into deep jars and scraping the edges of bowls and many more.